ODC™ Protects Trees for $1.49 ea
Available Sizes: 1, 8, and 16 fl. oz

Brochure  / Label  / MSDS

ODC™ Home & Garden Info
For Indoor & Outdoor Gardens / ODC™ Testimonies / Compare
Articles: Denver Post / NCBR / RMC
Colorado State University PR:
Press / ODC Beetle 3-yr / Results
ODC™ Professional Info:
HOME & GARDEN
Broad Spectrum Biopesticide
Non-toxic and Safe
Colloidal Chitosan
Easy to use on:
FORTIFIES
PLANT DEFENSE
MECHANISMS
When used as directed,
ODC™ can boost
germination and
vitality, stimulate
emergence and
rooting, enhance
plant vigor, increase
CO2 and nutrient
uptake and resist
pathogens, activate
plant resistance
to environmental
stress, increase
crops yields, and
improve crop quality
ODC™ works from the inside out!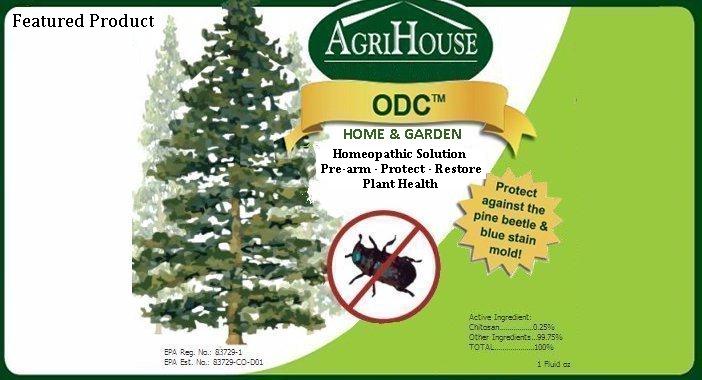 ODC™ Protect and Restore Testimonies - partial listing
Colorado State Forest Service

June 11th, 2012, this is Joe Dudda, Colorado State Forest Service, I received your information

(Colorado State University's Pine Beetle ODC Efficacy Report 2012)

, thank you for sending that along. And I see that Sky Stephens (CSFS entomologist) suggested an educational update meeting. If you have additional information presented to us we would provide it to folks that are interested.
Thanks.
J. Dudda, Deputy Chief Forester
Colorado State Forest Service
City of Wheatland, Wyoming


The forester's target was the lodgepole pines in the cemetery. All the trees were already hit at the time they used it. They used the ODC in conjunction with spraying, saved 80% of the trees. We are very happy! Those trees hit severely they lost, but the rest (80%) recovered!


City Clerk
City of Wheatland, Wyoming
Landowner
Drake, Colorado
I have been using ODC since 2010. It works and my trees are so lovely - no pine beetles! I got all the trees in our neighborhood treated for the first round this year. Thanks for this wonderful product! The whole neighborhood thanks you. They were very excited to find something that they could use around water and streams to save those trees from further problems this year.
A. Hidden
Golf Course Owner
Crete, Illinois
Our trees literally greened up within two weeks of using ODC. I apply ODC as much as I can. I tell everyone about ODC - no odor, non-toxic and it WORKS! We use ODC all the time!
D. Mortell, owner
Balmoral Woods Golf Course
Turf grass and Trees
Monore, North Carolina


I made a sprayer to ODC treat pines and turf grass. I use 2 fluid ounces (60 ml) of ODC in a 275 gallon pallet tank with a shallow well pump (electric ) with a pressure regulator and a small generator to power pump. The pump is hooked up to a 300 foot hose reel. This lets me treat pines and turf grass with about three gallons of water or more. I can treat over 60 trees an hour. To date I have tested ODC on over 1000 southern pines trees and surrounding turf grass now. It works great - my customers can't believe the level of pitch their trees have after they've been treated with ODC. The trees and lawns are so much more alive when ODC is used. - thanks.
B. Kohout
Certified Arborist
Farmer
Berthoud, Colorado


I am a large commercial farmer located in Berthoud, Colorado. I have been using AgriHouse's ODC for several years now with great results. I use ODC to increase my harvests of corn and hay crops.
J. Sullivan
Member Colorado Corn Board
Homeowner
Larime, Wyoming


I have applied ODC to my 20 ponderosa pine trees for the last couple of years. I purchased ODC from Bath Greenhouse in Ft Collins, CO years ago. They'll all looking beautiful while my neighbors lost all of their pines. This product is better than competing sprays. Please tell me where I can buy ODC locally?
B. Marie
Florists
San Diego, California


My wife is a professional florist. Since she started using ODC on her roses she has have never seen anything work so well as this product. ODC increases the number of rose blooms! They have amazing color to them too! Send more bottles ASAP!
S. Russo
Tree Grower
Nebraska City, Nebraska


I put some of that 'ODC™' on some seeds a few days ago and last night they looked like they were trying get out of the container. Wow! Huge roots structures in just a couple of days.


P. Knopp

Author
Portland, Oregon

I am the author of 'The New Whole Foods Encyclopedia: A Comprehensive Resource for Healthy Eating' and ' The Whole Foods Encyclopedia: A Shopper's Guide', let me tell you, ODC works as claimed. It is a true miracle worker on all my plants and garden. And it is all natural, I can't be without it!
R. Wood, Author
Tree Nursery
Bulher, KS

I have been using ODC since 2010 when I heard about the news from the professors at Colorado State University. I applied it to my pines, transplants and surround lawns. This product truly protects trees from the sawyer beetle. I have seen ODC restore tree health to hundreds of trees. We apply it to the soil and get tremendous results. I believe in ODC.
D. Erickson
, owner

Erickson Tree Nursery
Arborist
Loveland, Colorado

We don't spray trees with pesticides - we only use ODC to protect and restore infected trees. Our customers request only ODC. We like your ODC product because of how easy and safe it is to use and apply.
B. Jones, manage
r

Top-Notch Tree Service
Greenhouse and Landscaping
Cheyenne, Wyoming

I first used ODC three years ago to save my infected ponderosa pines and aspen trees around my home. Once I saw the results and how quickly it works, even on flowers, that's when to decided to sell ODC in our retail garden center. ODC works. We advertise that every tree and greenhouse plant in our store is pre-treated and protect with ODC. My customers keep coming back for this product - they all tell the same story - they love it. It cost less than 89¢ (16 fl. oz. btl) and nothing beats the non-toxic benefits, application rate and price. I promote ODC everywhere, in Cheyenne's newspaper, TV and radio. I say, try it - you'll see the benefits.
ODC restored my infected trees and they have never looked better.

B. Green
, Professional Landscaper, owner

Riverbend Nursery and Landscaping
Heirloom Tomato Grower
Shelton, Washington

I want you to know that I used your biocontrol (ODC) to start heirloom tomatoes. We start our plants form heirloom tomato seeds. Until we started using your product we had an average of 72% germination rate until now with your biocontrol. Now we get a 92% germination rate. Incredible! I have tried seaweed, fish emulsions and many other organic product. You folks have an amazing product, please ship me another bottle.
J. Atkinson, professional organic tomato grower, owner
News

Northern Colorado Business Report

Mountain Pine Beetle inflitrates Fort Collions, CO




Rocky Mountain Collegian


By Emily Smith | RMSMC Mountain pine beetles coordinate mass attacks, ... Linden has invented a new product called Organic Disease Control (ODC).

Pine beetles always two steps ahead of the feds
Rapid City Journal
For several years now, the mountain pine beetle has out-maneuvered the federal government. The result is in plain view with a simple drive through the Black Hills today. An estimated 384000 acres - one third of the 1.2 million acres of National Forest ...


Noem pine beetle hearing to listen to forest, business, tourism interests
Rapid City Journal
Local tourism, business and timber industry officials will join state and federal forestry experts in giving testimony Sunday on the pine beetle epidemic during a congressional field hearing near Hill City, organized by Rep. Kristi Noem. Noem, RS. ...


Southern pine beetle in NJ on pace to destroy over 14000 acres of Pinelands


newjerseynewsroom.com


The southern pine beetle this summer is on a pace to kill more than the 14000 acres of Pinelands it destroyed last year and environmental protection workers are trying to stop it. "We are stepping up our efforts to protect this unique ecosystem, ...


Expert believes herbicide is killing spruce and white pine trees

NY Times


Expert believes herbicide is killing trees ... Imprelis, a powerful herbicide made by DuPont Professional Products, is used to kill pesky weeds but ... "All of them that have dead spruce trees and damaged other plants, ...
---